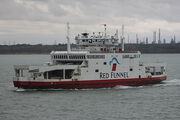 The Red Osprey is one of three Raptor Class ferries currently operating for the ferry company Red Funnel. She was built by Ferguson Shipbuilders, Glasgow in October 1994, along with her sister ship, the Red Falcon.
She currently operates on the Southampton to East Cowes route. She has two sister ships, the Red Falcon and the Red Eagle, which was built later than the other two.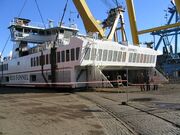 She was extended and refitted in 2003, in Gdansk, Poland to increase her capacity. In effect, Refitting and extending her meant that the ship had to be taken apart, like a giant Jigsaw Puzzle. Starting with the superstructure, all of her components above the waterline, including her mammoth Wartsilla Engines, were stripped down and lifted away by cranes, exposing the hull, which was then extended.
With her hull extended, she was put back together and was then refitted, with her interior furnishings refreshed and her internal piping and electric networks refined, to name a few of the adaptations made. She was then returned to service in January 2004.
For a while, this made her the largest passenger vessel frequently travelling across the Solent until she was superseded by the newly-stretched Red Eagle in 2005, also part of the Red Funnel fleet.
From January 2009 till January 2010, to promote the opening of a new IKEA store in Southampton, both sides of the Red Osprey were painted in IKEA colours (blue and yellow). During this time, she provided home delivery services from IKEA in Southampton to the Isle of Wight, until the contract between Red Funnel and IKEA expired.
Like one of her sister ships, MV Red Falcon, The Red Osprey was refurbished in Portsmouth from the end of 2014 to April 2015. As of April 2015, she is back in service.