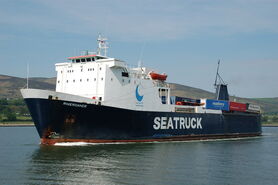 This has been a Featured Article on the wiki.
The Riverdance was a multi-purpose ferry which was operated by Seatruck serving their Heysham - Warrenpoint route. She was built in 1977 by Rickmers Rhederei in Germany for Mashala Shipping, but was chartered to Gilnavi Lines immediately after launch. In 1991, she was renamed as the Schiaffino and began operations with Sally Line. She was acquired by North Sea Ferries in 1994, but was returned to Sally Line later that year. In 1995, she was renamed again, this time as the Sally Eurobridge and was acquired by Norfolkline. T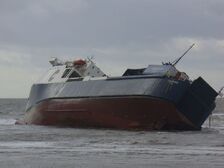 hen, in 1996, she was sold to Seatruck Ferries where she was renamed for the last time, as the Riverdance. She was placed on the route linking Heysham with Warrenpoint, a small port town on the coast of Northern Ireland. On the 31st January 2008, in rough weather, the ferry was beached on the coast at Cleveleys in Blackpool. Although the initial plan was to salvage the stricken vessel, it proved not possible and the ship was scrapped in situ later that year. The Riverdance was sisters to the Kibris Gunesi, the Lider Samsun, the Ranine and the European Mariner. Her former port of registry was Nassau, the Bahamas.
Ad blocker interference detected!
Wikia is a free-to-use site that makes money from advertising. We have a modified experience for viewers using ad blockers

Wikia is not accessible if you've made further modifications. Remove the custom ad blocker rule(s) and the page will load as expected.