The St Clare is a roro ferry that is owned by the ferry company
Wightlink
. She is the company's largest ferry and is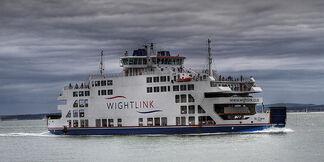 the broadest ferry (but not the longest, that title goes to
MV Red Eagle
) currently operating to the Isle of Wight. She was built in 2001 and remained the company's newest ferry in service until the Wight Class ferries entered service on the Lymington-Yarmouth route. The St Clare currently operates on the Portsmouth to Fishbourne route. Her onboard facilities include a seating area, TV lounge, a shop, lifts and toilets.
Ad blocker interference detected!
Wikia is a free-to-use site that makes money from advertising. We have a modified experience for viewers using ad blockers

Wikia is not accessible if you've made further modifications. Remove the custom ad blocker rule(s) and the page will load as expected.