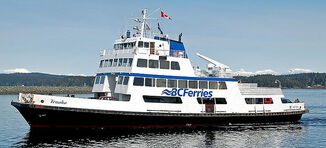 The Tenaka is the first of the two T Class ferries that currently operate for the Canadian ferry company, BC Ferries. She was built in 1964 by Victoria Machinery Depot as the Comox Queen for the British Columbia Ministry of Transportation and Highways. In 1977, she was renamed as the Tenaka. In 1985, she was transferred to BC Ferries. She currently serves on the route linking Heriot Bay with Whaletown. She has one younger sister ship called the Tachek.
Ad blocker interference detected!
Wikia is a free-to-use site that makes money from advertising. We have a modified experience for viewers using ad blockers

Wikia is not accessible if you've made further modifications. Remove the custom ad blocker rule(s) and the page will load as expected.