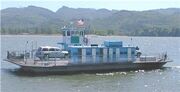 MV Wahkiakum
is a ferry that crosses the lower Columbia River between Cathlamet, on Puget Island in Washington state and Westport, Oregon, USA. It has been operated by Wahkiakum County, Washington, since 1962. The ferry holds twelve cars. The ferry runs hourly, making 18 return trips per day, and the trip takes approximately ten minutes. A new ferry is set to replace the
Wahkiakum
by 2013, which will hold 23 cars.
External Links
New Columbia River ferry could arrive within two years, The Daily News Online, 4 November 2011 [1]
Ad blocker interference detected!
Wikia is a free-to-use site that makes money from advertising. We have a modified experience for viewers using ad blockers

Wikia is not accessible if you've made further modifications. Remove the custom ad blocker rule(s) and the page will load as expected.