The Wight Sun is a new roro ferry owned by the Isle of Wight ferry company,
Wightlink
. She operates on the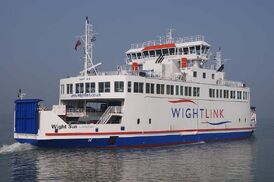 Lymington-Yarmouth route. She is part of the new 'Wight Class' ferries which replaced the earlier 'C Class' ferries. She has two sister ships, the
Wight Sky
and the
Wight Light
. She has been in service since Spring of 2009. After she was fitted out, she sailed 3071 miles from Kraljevica, Croatia to Lymington, Southern England. Her port of registry is in London, England.
Ad blocker interference detected!
Wikia is a free-to-use site that makes money from advertising. We have a modified experience for viewers using ad blockers

Wikia is not accessible if you've made further modifications. Remove the custom ad blocker rule(s) and the page will load as expected.