The
MV William Frankland
is a ferry that runs between White Head Island and the island of Grand Manan, New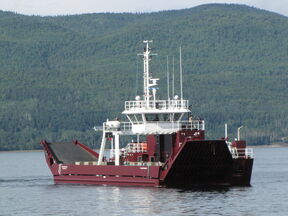 Brunswick, Canada. The ferry can carry 12 cars and 32 passengers. The vessel is owned by the province of New Brunswick, and run by
Coastal Transport Ltd
. Its maiden voyage was in October 2011. The ferry travels between the two islands ten times a day, with the crossing taking approximately 20 to 30 minutes. The trip is free of charge, and runs every day except Christmas and New Year's Day.
The vessel replaced the MV Lady White Head, built in 1976 and accommodating eight cars, due to its age and limited capacity.
External Links
Ad blocker interference detected!
Wikia is a free-to-use site that makes money from advertising. We have a modified experience for viewers using ad blockers

Wikia is not accessible if you've made further modifications. Remove the custom ad blocker rule(s) and the page will load as expected.