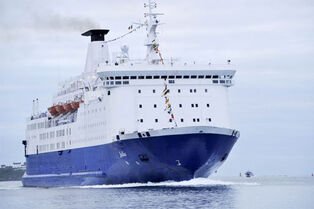 The Wind Perfection Is a multi-purpose cruiseferry that was formerly owned and operated by the now defunct Irish ferry company, Fastnet Line. She was built in 1982 by Weser Seebeckswerft, Germany as the Olau Britannia for Olau Line. In 1990, she was sold to Fred. Olson Lines where she was renamed as the Bayard. She spent 17 years on this service, until she was sold to Stella Line in 2008. She was renamed as the Julia. The service didn't work, and she was laid up. She was then bought by Fastnet Line where she kept her name and was placed on the route linking Swansea in Wales, to Cork in Ireland. In February 2012, it was announced that Fastnet Line would no longer be sailing, and was officially declared defunct. The Julia was sold and renamed as the Wind Perfection. She has one sister ship, the Nordlandia. Her current port of registry is Hamilton, Bermuda.
Ad blocker interference detected!
Wikia is a free-to-use site that makes money from advertising. We have a modified experience for viewers using ad blockers

Wikia is not accessible if you've made further modifications. Remove the custom ad blocker rule(s) and the page will load as expected.