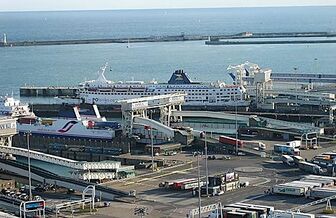 The Port of Dover is a cross-channel port located in the town of Dover, Kent, south-east England. The harbour was officially opened in 1606 and is owned and operated by the Dover Harbour Board. It is the closest British port to France, being just 34 kilometres apart with a
ferry to France
typically taking only 90 minutes to cross the channel. It is also one of the world's busiest ports, with 14 million people travelling from Dover per year. The harbour even has its own police force, the Port of Dover Police. The port is split into two different sections, the Easten Docks, which deals with the ferries, and the western docks which deals with cruise ships. The ferry companies that run from here are:
P&O Ferries: Dover-Calais
DFDS Seaways: Dover-Dunkirk, Dover-Calais
Ad blocker interference detected!
Wikia is a free-to-use site that makes money from advertising. We have a modified experience for viewers using ad blockers

Wikia is not accessible if you've made further modifications. Remove the custom ad blocker rule(s) and the page will load as expected.