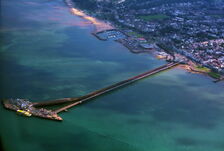 Ryde Pier is a pier located in Ryde, Isle of Wight which is today used as the Wightlink catamaran terminal, providing a link between Ryde and Portsmouth. The original pier was opened in 1814. It was made entirely out of timber and it transported vehicles and pedestrians. The second pier, which was built next to the first, was opened in 1864 which supported horse-drawn trams and railways. In 1880, a third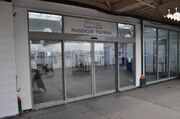 pier was built, which provided a direct steam railway link to the head of the pier. In 1969, the tramway was closed, however in 2010, it was decked temporarily whilst the promenade pier was being rebuilt. Today, the pier head is used as a terminal operated by Wightlink, which run a service from Ryde to Portsmouth using thir new catamaran ferries, th Wight Ryder I and the Wight Ryder II. Ryde Pier is a Grade II listed building, as of 1976. Cars are no longer allowed to go up the road for health and safety reasons but trains still do as of 2010.
Ad blocker interference detected!
Wikia is a free-to-use site that makes money from advertising. We have a modified experience for viewers using ad blockers

Wikia is not accessible if you've made further modifications. Remove the custom ad blocker rule(s) and the page will load as expected.