The
SS Badger
operates in the United States on Lake Michigan from Manitowoc, Wisconsin to Ludington, Michigan. She is the last remaining coal-fired passenger ship running in the United States. The Badger began operating in 1953, transporting cars and passengers Milwaukee, Manitowoc and Kewaunee to Ludington. The vessel is 410-foot long, and built by Christy Corporation, Sturgeon Bay, WI. During trips across the lake, the vessel is estimated to have dumped 3.8 million tons of ash overboard. This ash contains mercury, arsenic, cadmium and other pollutants. In November 2011 the owners of the SS Badger attempted to get an exemption from federal pollution laws, which would allow the ship to dump more than 500 tons of coal ash a year in Lake Michigan, by designating the ship as a national historic landmark.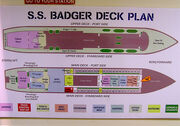 External Links
Ad blocker interference detected!
Wikia is a free-to-use site that makes money from advertising. We have a modified experience for viewers using ad blockers

Wikia is not accessible if you've made further modifications. Remove the custom ad blocker rule(s) and the page will load as expected.