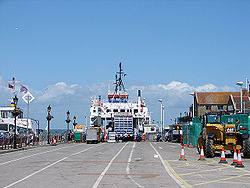 Yarmouth Harbour is a ferry terminal located in Yarmouth, a seaside town in the Isle of Wight. The ferry terminal is operated by
Wightlink
. Three ferries, owned by
Wightlink
, operate on a regular service to and from Lymington, mainland England. They are the
Formerly, Wightlink's older C Class ferries, the Cenred, the Caedmon and the Cenwulf operated this service, until they were finally scrapped in 2009. The terminal is quite small, with only one berth. The terminal building is situated west of the ferry. Facilities include the reception desk, a small café on the roof, toilets and foot passenger access to the ferry.
Ad blocker interference detected!
Wikia is a free-to-use site that makes money from advertising. We have a modified experience for viewers using ad blockers

Wikia is not accessible if you've made further modifications. Remove the custom ad blocker rule(s) and the page will load as expected.